Today with great eager we want to share with you a delicious shawarma recipe that you can make at home. Just think about it whether it's a party or a birthday, an event or just a happy day it would literally make our day a lot better if we spot chicken on the menu. It truly alters our entire mood, as someone rightly said 'You don't see the time, you just say get the chicken to the plate and let me enjoy its flavorful delight'.
Apart from its inescapable and incomparable taste, Did you also Know that Chicken is a great source for proteins? Chicken breast has the highest protein count by weight. Just 100 grams of chicken breast gives you 31g of protein, in comparison to an egg whose 100g only gives you 13g of lean protein.
If you want to lose weight, maintain your muscle mass or improve your diet and muscle recovery process chicken breast is an absolute and exemplary choice. It is low in calories with only 3.6g of total fat and 35% of Vitamin B6 which makes it a great item for your appetite.
Is there an ideal way to slice the chicken?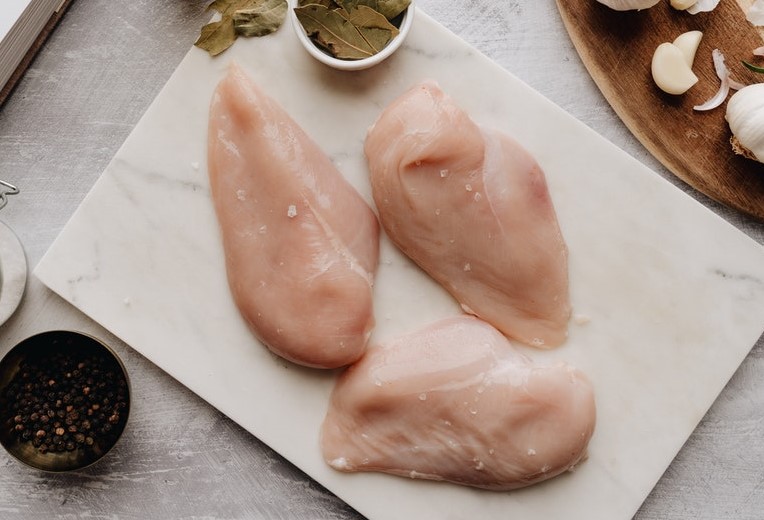 Did you know that you can make the most out of your chicken breast just by slicing it the right way? Yes folks there is an apt way to get the maximum benefits. The most apt way to cut is to slice the chicken against the grain, now in order to identify the right direction to slice it against the grain just follow the parallel lines of the muscle fiber and further slice it exactly perpendicular to them.
While this can be a tedious job sometimes trust me on the fact that it lends you with shorter muscle fibers and makes the meat more tenderlicious.
So with great pleasure we want to share the chicken shawarma recipe with you, that will help you plan an ideal recipe to treat you and your family better and without compromising on anything this will leave your guests awestruck.
Delicious Shawarma recipe
Shawarma is a dish that is largely consumed in the gulf countries and more precisely its origin can be traced to modern day Turkey where it is also spelled as 'Shawarma' which means "turning" in the Arabic language. However, it is continuously gaining popularity in India.
It is made out of Pita bread and is nicely stuffed with chicken and further completed by adding sauce mostly Tahini, or mayonnaise and finally dressed with some fresh veggies. It is a wholesome recipe that you can easily make at home, and you won't be able to escape it's taste anytime sooner. And it is an ideal dish to bust your hunger cravings.
So let us quickly dive into the recipe
INGREDIENTS: (Serves 3)
1 and ½ cup chicken (boneless)
2 tablespoon lemon juice
1 and ¼ tablespoon Olive oil (vegetable oil – alternative)
2 teaspoon tahini
Salt as per taste
½ handful chopped parsley
½ teaspoon spice cardamom
2 sliced tomatoes
2 cup shredded lettuce leaf
½ teaspoon of black pepper
5 pita bread
1 and 1/2 Medium chopped onion
1 and ¼ tablespoon garlic
1 cup and ½ tablespoon of plain yogurt
½ cup carrot
Schezwan sauce
Delicious Shawarma Recipe Preparation Method :
1. Preparation
Start the recipe by adding the plain yoghurt to a bowl and only if you wish to have your chicken taste a bit tangy then add the lemon juice to it. Further add the salt as per the taste and mix everything well.
* An important thing to note is that the yoghurt should be fresh not sour, as this can affect the taste of the final outcome.*
2. Marination
Now marinate the chicken maintaining a thick consistency. Now after the marination process is completed then refrigerate it for at least 15 hours, refrigerating the marination for a day is an apt choice, as the longer we keep it to rest the better and tender your chicken will be.
3. Grilling the Chicken
If you have a grilled pan then nothing like it or you can also use a regular pan. Just take care that the pan should be a non-stick one. Now keep the flame at high, once it is hot enough; Add 1 and ¼ tablespoon of vegetable oil. Now it is time to add the chicken pieces on to the pan but be careful to lay them separately on the pan and not crowded in one place, as this can release moisture.
4. Frying the Chicken Pieces
As soon as the marinade is almost complete you will see it turning goldish in color which indicates that the chicken has begun to caramelize now set the flame to medium. Now continue the marinade until the chicken pieces dry up completely. The added yoghurt makes the chicken cook fast. But keep in mind to regulate the flame accordingly so that the chicken is not overcooked.
5. Cutting the Chicken Pieces
Now carefully take a spatula and cut the chicken into medium size pieces. Do not cut it too short. Now keep the pieces aside to rest. On the same pan add chopped onions, tomatoes, carrots and fry them. Now add ½ teaspoon cardamom to it with 1 and mix well till the onions turn slight goldish in color.
6. Tahini Sauce mix
Add some tahini sauce with ½ teaspoon garlic and salt to be added only if required. Next we shall add ½ handful of chopped parsley to it and your tahini mix sauce is ready to rock
7. Assembling the Shawarma
Now we come to the final assembly of our delicious shawarma. Quickly grab a pita bread (roasted) and quickly add a medium coat of tahini sauce, add some schezwan sauce and spread the coat evenly on and around the center and border of the bread, now add your fried veggies and chicken.
Now finally topple it with some fresh lettuce and black pepper. Carefully roll the entire shawarma and your delicious shawarma is ready to bust your hunger cravings.
On this note we leave you with a recipe that is truly lip-smacking and will leave your guests with nothing but a fresh memory of a flavorful delight if served. Make sure to let us know how your shawarma turned out to be and as always
Do not hesitate to speak your heart out in the comment section
Now before you leave check out some of the interesting facts about shawarma mentioned below:-
According to the survey 'Shawarma' is the most tagged food on Instagram in the middle-east.
Chicken, beef or lamb meat is used in shawarma.
'Laffal is a type of bread which is thicker than pita and can also be used to wrap a shawarma filling.
Sauces are the key ingredient to nail the taste of the shawarma.
Find more such delicious recipes